such is life
School is officially over, and my days now need some adjusting! Having 4 (and sometimes more) kids home during the day has its pros and cons. Alex now has someone besides Mommy to play with, which is a good thing. It's also wonderful to see my children for more daylight hours. But now it takes longer to make lunch, and bickering is always inevitable! LOL I have to share my computer with little ones who want to access
Club Penguin
(an actually pretty good site for kids, btw), and getting work done is not always easy. But my days are definitely more fun!
We had a fun Memorial Day yesterday. Just the family, and a couple extra friends. We had a few summer showers, so we had to work the grill around the rain. We had each person pick a special snack that they wanted to have. Jessie chose Ruffles and sour cream and onion dip (she loves it, but won't go near onions otherwise. Go figure!). Helen wanted the cheese-filled hot dogs. I got pomegranate martinis! Alex got popsicles, and I made our special bruschetta for Ed: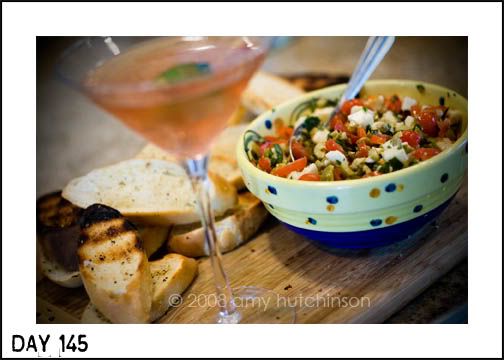 It's a special recipe that my mom got from somewhere, and we just love it!
bruschetta on garlic crisps:
1 package grape tomatoes (I don't like tomatoes unless they are cooked, or are the grape kind)
1 package FRESH mozzarella cheese (trust me, it makes ALL the difference!)
1 cup (approximately) green olives
1 bunch fresh basil (again, MUST be fresh! Not that icky dried kind)
1 french baguette
whole clove garlic
Chop everything up, add a little salt and pepper, and drizzle with olive oil until it mixes together. You don't need much oil. Don't add garlic to the mix! You'll have plenty on the bread. Slice the bread at an angle. Drizzle with olive oil and a little salt and pepper. We grilled it, which was extraordinarily good, but you can broil it instead. When it's done, take it off the grill and, while it's still hot, rub the garlic clove over the top of each piece. Serve with the tomatoes! Yum! SOOO good!
Morgan made candy sushi, which is also a Grandma recipe (hey, she's a teacher!):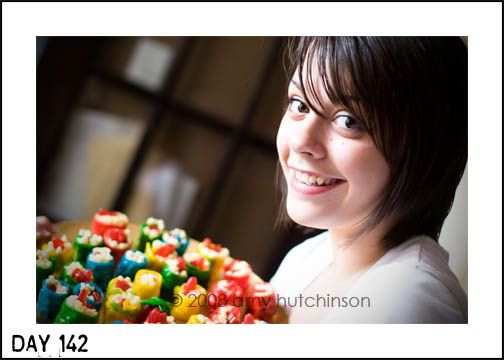 I'm not exactly sure how she did it, but I know it involves rice krispy treats, red twizzlers, and fruit roll-ups. She even added some gummy fishies to this batch. You put the twizzlers in the rice krispy treats, then wrap it up with the fruit roll-ups. When it's sliced, it does look a little like sushi, but tastes much better! ;)
down to business
Today is Page Turner Tuesday at
WST!
We're celebrating Tiff's birthday, but we're giving you the presents!
latest layout
I used some yummy Prima goodies, and the June sketch by the talented
Janine Langer
to make this page about Helen's last few days of 4th grade.
Come play with us!
Here's to spending quality days with your children! Cheers!