Hey bloggers! As some of you may know, I have my first collaboration kit called "Cocktail Hour" coming out tomorrow...um....later today...with the uber-talented, fabulous
Christina Renee!
We are so excited about this kit, and we hope you will be too! To celebrate, we're having a little layout contest.
We made so many goodies for this kit, that we couldn't fit it all in, so we put all the extras into a little mini-kit for you to download (FREE!), and have a little fun with. We want to see layouts made ONLY with Cocktail Hour goodies! You may use only freebie items, or if you happen to go by the store later and purchase the full kit, you can use those items too. Fonts for journaling are ok, but nothing else! I am in desparate need of a CT, and I'll be keeping my eye out for my favorite layouts! Be sure to link me up!
Here is a little preview of what is in the addon, and you can also get a sense for the theme of the kit: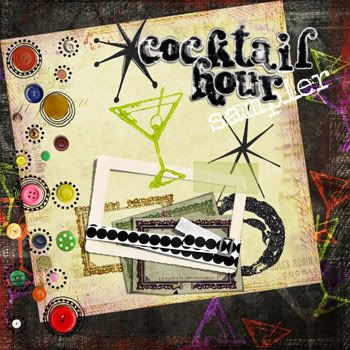 You can download part one here, on
Christina's Blog.
If you already have it, then get the second part by clicking here:
Cocktail Hour Part 2.
Can't wait to see those layouts! Here's to cocktail hour!
Cheers!