For some reason, autumn always gets me in a "house" mood. I want to decorate, clean, and rearrange the house. I want everything to look good, and smell good! We've been wanting new sitting room furniture to take the place of the breakfast room that we never use, so we finally went out and splurged. Four new leather chairs, a glass coffee table, a new rug (the only one in the house so far), and some shelves. I love how it turned out! In fact, I sit in here ALL the time! We've dubbed it the "internet cafe," since I can always be found in here with a laptop!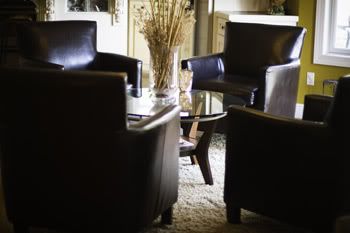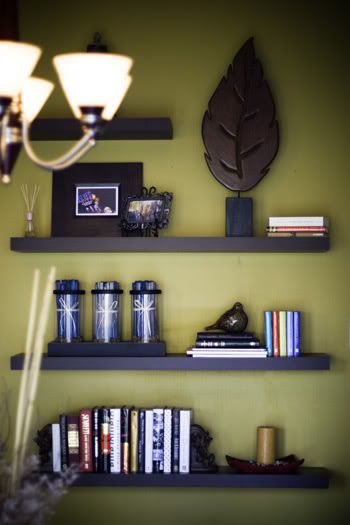 I've been wanting a place to hang and display my layouts for some time now. There is only one small hallway downstairs, and I decided that would be perfect for an "art wall." I talked hubby into painting it a dark chocolate color. I scrap 8x8, so I mount each layout on a 12x12 piece of white cardstock, and they just pop off the wall! We hung three lengths of wire on some hooks, and I use office clips to hang the layouts from the wire. This makes it easy to arrange and switch out. We have cable lighting on the ceiling, and it's perfect to "spotlight" the wall.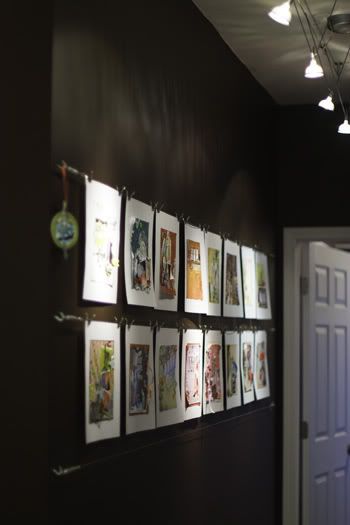 I've also been doing a bit of Halloween decorating. I love Halloween! Last year, we got a lot of those cute Halloween village pieces on sale at Michael's, so I just couldn't wait to set them up this year! I don't care much for the Christmas ones, but for some reason, I adore the Halloween ones! They're just so much fun! They all light up, move, and play scary noises. Fun stuff. I set them all up on a table in our foyer.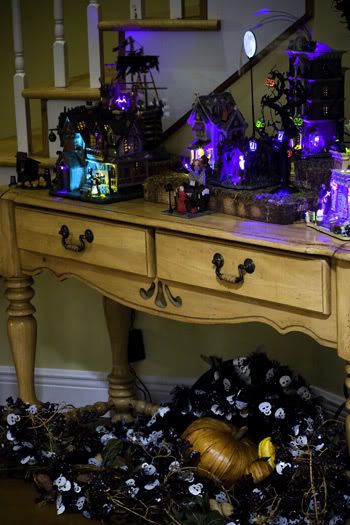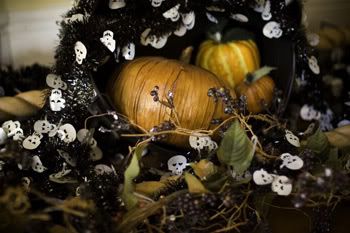 I put some fall garland and purple lights on the front door, so now we're ready for Halloween! All we need now are a few pumpkins ;)
latest layouts
I'm starting to go back and scrap some older pics. Love this one of Helen, with the light shining off her then-blonde hair:
Real men wear pink (at least their sister's bathrobe):
Here's to autumn! Cheers!