Then I am over-blessed! The graces just keep showering down on me! If I am being rewarded for some act of kindness, then I need to know what it is so that I can keep doing it!
I have only been scrapping for a little over 6 months, and I have been SO lucky to be on some of the best teams, and to meet some of the most fabulous, talented women.
I am SO EXCITED to announce that I am now a member of
Little Dreamer Designs
! Anyone who does any scrapping at all is familiar with the uber-talented Michelle Coleman. I still can't believe I will be working with her and the awesome designers at her shoppe.
The awesome
Christina Renee
has also asked me to join her permanent team! She has one of the seriously most awesome teams on the planet (names like Gina Miller, Kate Hadfield, and Angela Powers come to mind. Yowsers!), and I can't believe she deems me worthy enough to join them! Her designs are beyond awesome - with that eclectic, artsy touch that I love. She and I will get along just fine!
There are several other things in my life that just keep getting better and better, and I will touch on those another time. This post would be too long to mention them all here! A few at a time instead...
*Latest Layout: Prom 07*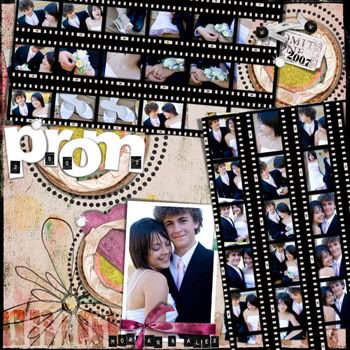 Speaking of LDD and CR, this layout combines some of the latest of each. This is my biggest little girl, all grown up. She will be going to High School in August, can you believe it?? This was her first formal dance. Alex (the boyfriend) doesn't usually like cameras or other "mechanical devices," but I warned him in advance that there was going to be plenty of picture-taking going on! He was a sport, and cooperated fully. He brought Morgan the prettiest flowers, and even wore a pink tie that matched the pink trim on her dress perfectly. Is he a keeper or what?
Have a great Memorial Day Weekend!
Cheers!