DH was the perfect husband Tuesday. Stayed home from work so that I could go to the dentist. While I was gone, he cleaned the entire kitchen, with a little help from the wee one. Braved the cold to put up outdoor Christmas decorations. Endured my pickiness about where to place them. Helped kids with homework so I could get some work done. Put wee one to bed. We women love to complain about our husbands and tell ourselves how it's a woman's world, and how they can't live without us (which, of course, is perfectly true!). But once in awhile, I'll (secretly) admit that I couldn't live without my man. For these little reasons, and so much more.
That being said, I do have to do my wifely duties and note that it is a rare occasion when DH cleans the kitchen! I had to document the moment. Perfect chance for my before and after comparison of the island.
A little background: Ed just loved to hear me complain about the kitchen that he built me to my specifications, after I had spent a year planning our new home. He reminded me that it was what I had asked for. True. BUT.... you never really know how something is going to work (or not work) in a new house until you actually start using it! The island was one of those things. I wanted it to be a place where the kids did homework, ate their afternoon snack, where we all cooked dinner together. It was none of those things. The bar was too high - it came up to the kids' chins when they sat there. The lights got in the way of the TV (above the fridge). There wasn't enough work space, and everything got piled there. The raised bar cut off the view to the living room, when I really wanted an open space.
Finally, he got tired of my whining, and with a ton of help from his dad, he broke down and built me a new one! Well, the old one is still there, it just got re-worked. It has the same footprint, but twice the workspace! The seating area is still there, but it is now concealed. No raised bar, so the kids can eat comfortably. I painted it a glossy black to contrast with the rest of the kitchen. It is now everything I wanted my island to be! The kitchen that I complained about for so long is now my favorite room in the house!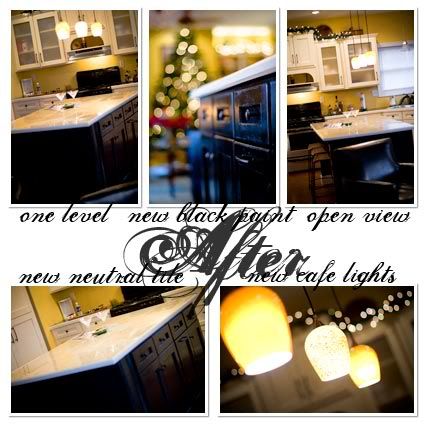 It worked out so well for Thanksgiving, and now the kitchen looks so festive, all decorated for Christmas!
latest layouts
I've had a little more time lately for scrapping, and actually have some layouts to share! Shocker, I know.
I've taken lots of photos of all my Christmas decorations, and I'll post those next time. I think this one's long enough! Here's to new islands, and new kitchens! Cheers!