When I was in college, I had great plans to be a DNA scientist, so "hybridizing" was a term i could see myself using in 10 years. Of course, that's not even CLOSE to what I'm doing now! But I'm pretty sure I wouldn't trade ;)
Is hybridizing even a real word? Or is it just an Amy word? Let's look it up......I'll get out my trusty dictionary widget....Yup, it's a real word. Darn. I like adding my own spin to the English language! Oh well, at least I'm adding my own spin to the definition! I'm not splicing DNA, I'm splicing paper and digi!
*My Everything*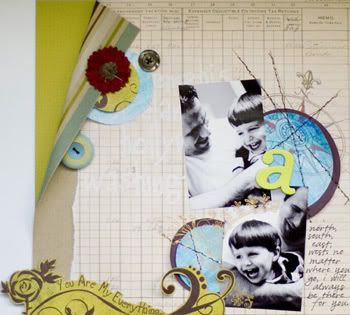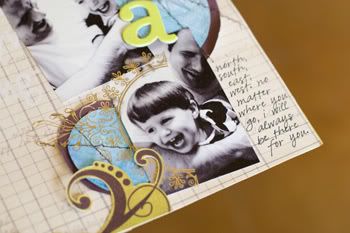 I did this one awhile back for
Scrap Gypsies
. The background is all digital. I added my journaling, the compass, and printed it out. Then I printed out the circles and my photos, cut them out, and added them to the background. I extended the lines of the compass with my sewing maching, added a Hambly rub, a flower, and some buttons.
*Roost*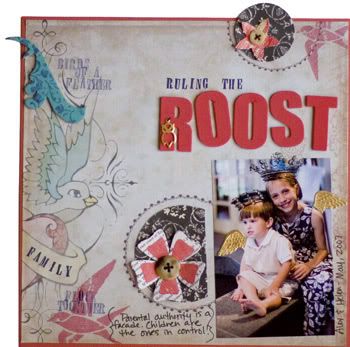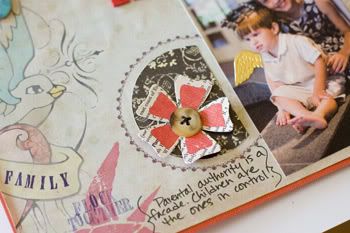 This was also done for
Scrap Gypsies.
It was done much the same way. The background is a blend of several digital papers, and some brushes. Then I added elements on top of it. The crown was added to both the background and the photo before printing, so that it would look like a stamp (Yes, this takes quite a bit of planning beforehand!).
*Security*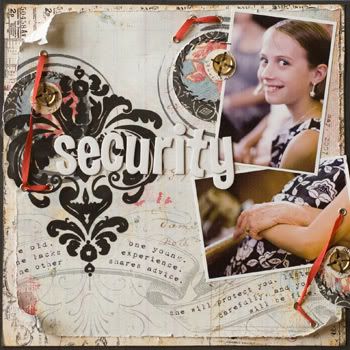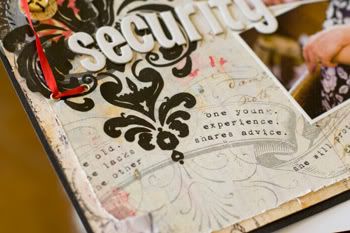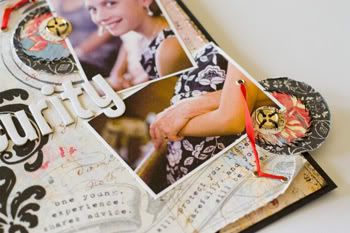 I actually had planned this one for my SOY entry, but as there is no way I will come up with 11 more layouts in 3 weeks, I've decided to forgo that contest this year :( I was really quite happy with how it turned out. The background is a Daisy D's paper, cut to an 8x8 size so that it would fit in my printer. I printed the journaling and some circle brushes right on top of it, then added a few paper circles, some buttons, a Heidi Swapp sticker, and some eyelets and ribbon. I roughed it up a bit and placed the whole thing on top of a Rhonna Farrer digital paper that I had printed out.
*a bit of news*
Did I mention that I will be the featured hybrid artist at
ScrapArtist
this month??? I'm so excited! I've just finished up my first project, and it will be debuting on their blog next Monday!
Cheers!