The 10 finalists have been announced. I didn't make the cut, but I am so happy for those who did! I didn't go into the contest with a hope of winning, but rather to challenge myself. And who knew? I wouldn't have a chance at all if I didn't enter, right? I was very, very pleased with my layouts that came out of this contest. If nothing else, I think it really helped me define my style.
*week 1: She-Woman*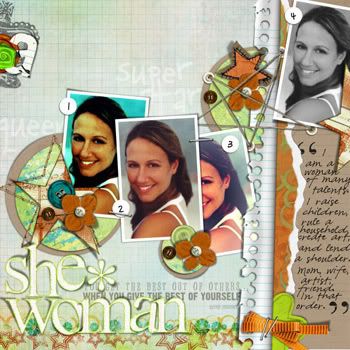 I often tell my husband how multi-talented I am, even though he doesn't quite believe me! This layout is all about my different roles in life, specifically as mom, wife, artist, and friend. I used a duplicated photo that was treated with different actions to give them each individuality. They're all me, but they're all different!
*week 2: Beach*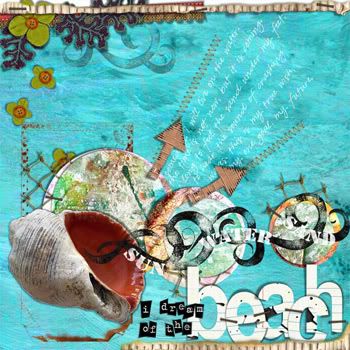 My wish. 'Nuff said.
*week 3: Everyday*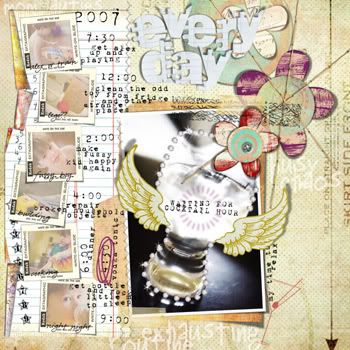 My daily schedule is chaos, even though I don't have one of those "job" things! A cocktail always calms me down at the end of the day.
*week 4: Observe*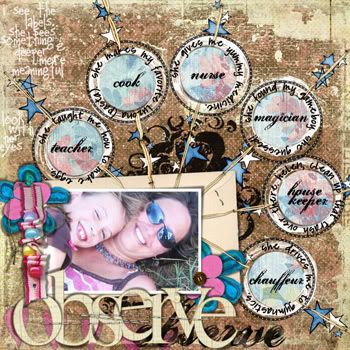 My middle daughter brought home a card for mother's day that she had filled out with all the things she thought made me a good mother. It was a joy looking through her eyes!