Another weekend, a new month, and new adventures! My goal for this month? Get organized! I made myself the cutest little scrappy planner and have not yet used it to its full potential. This month, that changes. Kids are home, wild, and chaos abounds! Not only will I get the house cleaned, the kids in order, and the garden growing, but I am going to conquer that ever-present enemy.....my scrap space!!!
*my new toy*
I've been trying to get things done today so that I can have a little time to learn how to operate my new toy:
It was time for an upgrade. Took me 3 days to decide which non-flip, FREE phone had the best calendar/alarm system! I think I use my phone more as a personal reminder than as an actual talk-to-people device. That, and as a watch.
*food for thought*
My brother and I just finished an online conversation where we were discussing the pros and cons of beaming. It went something like this:
Him:
wonder if i should eat these M&Ms. hmmm. i just ate some starburst, prolly wait a few more mins (he works for MasterFoods)
Me:
email me some! virtual candy...mmm...
Him:
just can't beam stuff yet. that would change a lot of stuff, ya know.
Me:
no kidding - then we'd all get fat!
Him:
like over night... FedEX, UPS, and the USPS would be f****d
Me:
but think of all the new enterprise possibilities
Him:
might not be such a kewl thing if everyone had a beaming station
Me:
what if you banged into someone mid-beam?
Him:
think about it... i tell you i am about to beam you some candy... you are like yeah... so you authorize it.. then because i am a dick.... i light a firecracker and send it instead. POW!
Me:
you cruel bastard
Him:
just an illistration to bring to life real issues...
Me:
perhaps a scanner to make sure items were authorized before beaming?
Him:
the beaming stations would have to be state of the art security stations... and the protocol that would have to be written to standardize beaming. traffic would be unreal
Me:
guess you would still have to have security guards - like at the airport. or robots.
Him:
we need to design that shit with dad... and get FedEX to fund our research... we could leverage their support and $$$ by explaining to them that the will be out of business if they dont back us up.
Me:
exactly! they would have no choice.
Him:
maybe we could lie and tell em we have a working prototype or some shit.
Me:
yeah, but they'd ask to see it, then what?
Him:
bomb case full of shotty pin ball machine parts.............
My daily entertainment. Gotta love him!
*scrappy goings-on*
Lotsa stuff going on right now!
Little Dreamer Designs
is having their grand opening sale!! Lots of great stuff 35% off through the 4th! You HAVE to go check it out!
Don't you just love my new blinkie?

Christina Renee
has a little sumthin-sumthin for her blog readers. Here's a little sneaky peek: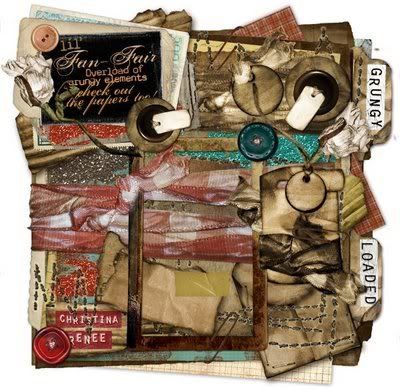 And I heard a little rumor that there may be a nice surprise for shoppers at
Funky Playground Designs
soon....
The first means a new Treat of the Month at
the Sweet Shoppe!
This month we got to lift Sari Underwood: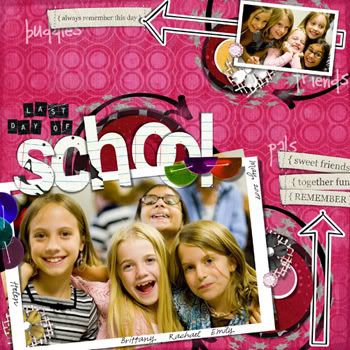 This is a layout of my middle daughter at her end-of-the-year party at school. She has such a great bunch of friends, and they're always nuts when they all get together! Makes for great photos! Speaking of layouts...
*latest layout: dirty hands*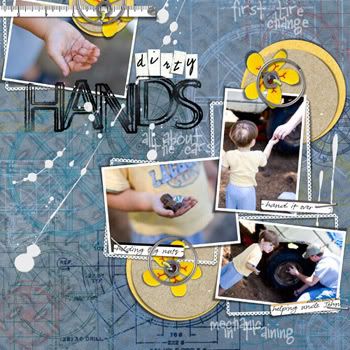 I got the BEST photos of Alex "helping" my brother change a tire the last time we were at my mom's. He was completely entranced by the whole process. I took tons of photos, and they are some of my favorite ever! Not sure this layout quite does them justice. Something is missing, and I can't tell exactly what... I think I will end up scrapping these again. Maybe a hybrid?
*tag, you're it!*
Lastly,
Emily
has tagged me! I know you're supposed to tag other people after doing this, but everyone I know has already done this one! But I thought I'd play along anyway!
*disclaimer: I'm assuming "things" refers to inanimate object. No sappy "family" or other people answers for me!*
My 5 favorite things:
1. My Mac
2. My camera
3. My car (Mitsubishi Eclipse convertible)
4. My garden
5. Final Fantasy XII
Thanks for the tag, Emily!
Cheers!