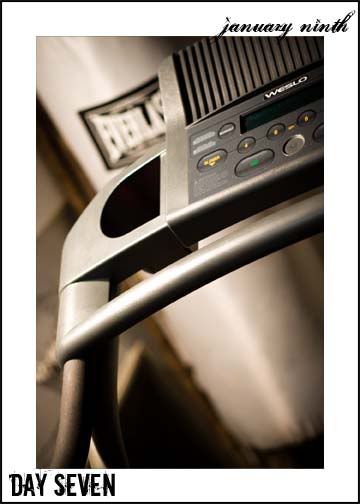 Meet my new friend. He (yes, it's a "he". This torture device could only be male) moved in right before Christmas, but we hadn't really gotten to know each other very well. Until today. Turns out he and I get along pretty well. I was supposed to start my new excercise regime on Monday, but I being the queen of procrastination that I am, didn't start until today. I have, however, been eating healthy since then. 100%. No cheats so far. And let me tell you, I feel so much better! I know I haven't lost any weight yet, but I feel more energized, and just overall GOOD. And I haven't even been exercising regularly! We've been following the
Sonoma Diet,
so the food is fabulous. It takes some planning, and lots of trips to the grocery store, but it is sooo worth it. I don't feel like I'm on a diet at all. My wallet will also appreciate it. McDonald's probably won't.
I'm determined to get back into my size 6 jeans, so I carried my fat butt out to the garage today to burn some calories. I took my iPod, a big glass of water, and a good attitude with me, so it went really well. I even almost enjoyed it! An hour to myself and a good audiobook. As I was running, I looked around my little "gym" and decided that it will be next on the renovation list. I think if I cover up the cinderblock, add some comfortable flooring, and put up some shelves, it would be much more useful. Besides, I work (and work out) better in a PRETTY room. So if I make it somewhere I actually want to go, then I'll be much more likely to keep it up. Shhh.... I haven't told hubby yet!
Here's a little something else that will make consistency more likely: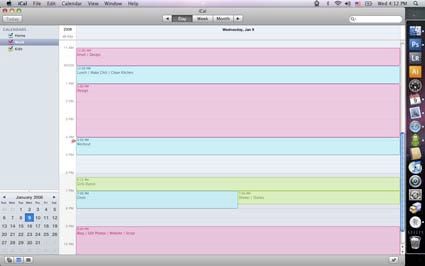 I've had
iCal
on my computer forever, but haven't really used it to its full potential. In an effort to live out my word for 2008, I'm filling this thing up. I accounted for every hour today, and it really helped to bring a little "order" to my life! And I got a TON done. My second new best friend.
i'm trying to get some new products in the store, but haven't felt very motivated lately. All I felt like doing yesterday was scrapping, and playing with some new products, so that's what I did :p Hence my photo for yesterday: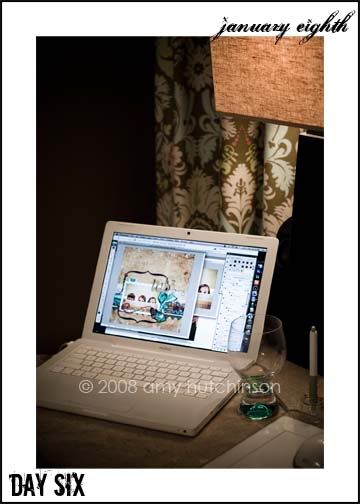 I feel much more creative now! Hopefully I can block off a big chunk of time tomorrow for designing.
Here's to feeling energized! Cheers!